Caravan, Camping and Little Lodges
Beecraigs is a great destination for a holiday and welcomes caravans, motorhomes, trailer tents and glamping alternative accommodation.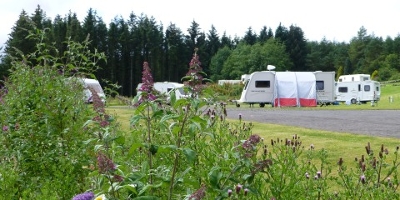 ---
Beecraigs Caravan & Camping Site
The site is an ideal countryside retreat, with modern toilet facilities and a perfect base from which to explore Central Scotland, Trossachs, Glasgow and Edinburgh.
Situated in the Bathgate Hills within Beecraigs Country Park but only 3.2km (2mile) south of Linlithgow town, Beecraigs Caravan & Camping Site provides a countryside setting with much to offer within the Country Park and the local area.
There are 26 hardstanding pitches which cater for touring caravans, motorhomes and trailer tents, and a separate grass camping area for tents. Hardstanding pitches are open all year round. The grass tent pitches are open from Easter to October. All hardstanding pitches have electrical hook-up. The grass tent area does not have electrical hookup. Beecraigs also has two 'Little Lodge' camping pods available for hire.
Beecraigs Country Park has been recognised as a great place to stay through receiving VisitScotland 4 star Touring Park award and the AA 4 Pennant Gold award.
Guidance
Please respect other guests by being social distance aware. All customers must adhere to the Caravan & Camping Site Standards 2023-24 [118KB] and guests in the Little Lodges must also adhere to the Beecraigs Little Lodge Terms & Conditions 2023-24 [161KB] .
---
Bookings
Bookings can be made online with live availability using the online booking system.
Please note that by proceeding to the booking system, you are agreeing to adhere to the:-
This seeks to ensure the safety of guests, visitors, staff and the local community.
Little Lodges
Please note that the Little Lodges can only be booked by calling reception on 01506 284516 during office hours (the online booking system shows the Little Lodges as unavailable but reception can advise on actual availability).
Arrivals
Outwith office hours (Summer 09.00-19.00, October 09:00-17:00 & Winter 10.00 - 16.00) please book online and then phone us with your booking number (there is an out of hours phone number displayed at the Site entrance if the Visitor Centre is closed).
Customer Satisfaction and Feedback Survey