Dog Walking
Please ensure your dog is under your control at all times.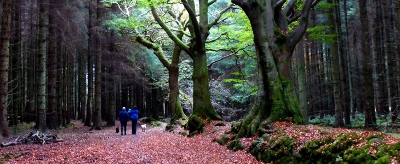 If your dog does not come back to you on command or is prone to run away, please keep your dog on a lead when walking in Beecraigs Country Park. By law, all dogs must always wear collars displaying your contact details when in a public place.
Beecraigs Country Park neighbours onto farmland and many fields have livestock, both young and older animals. Dogs have a natural instinct to chase other creatures and a sudden movement or scent can trigger this impulse in a dog that was previously walking calmly along. It can be extremely difficult to call a dog off once it takes chase and we urge dog owners to please make themselves aware of the countryside law.
Previously a number of incidents in the area around Cockleroy Hill have resulted in serious injury to sheep which have been reported to the Police. Cockleroy Hill is not within Beecraigs Country Park but many visitors enjoy the walk and view from this popular landmark. Both the landowner and Beecraigs Country Park urge dog walkers to be much more vigilant and responsible for their actions.
We want dogs and their owners to enjoy their walk but to be responsible for their actions.
Dog Walking Guidance
We ask that dog walkers please follow these simple rules when walking in livestock fields with your dogs and
Keep your dog under proper control [463.01KB]
Do not take dogs into fields where there are lambs, calves or other young animals.
Never let your dog worry or attack farm animals.
Cattle can act aggressively so keep yourself and your dog at a safe distance and, if necessary, let your dog go so that you can both seek safety.
Before entering a field, check to see if you have any alternative routes and keep your dog under close control at all times when walking across farmland as you often cannot see what is in the field.
Avoid causing concern to other people, especially those who may be afraid of dogs.
Pick up and dispose of your dog waste in public places, as dog waste is dangerous to both people and livestock.
Farmers have a duty of care towards livestock and are legally entitled to shoot a dog if it is causing distress, so please ensure your dog is under your control at all times.
Secure Dog Area
A recent addition to Beecraigs is our Secure Dog Area, where you can exercise your dog in an enclosed space. Perfect for training or practicing recall with your furry friend!
---