Libraries News
What's new in libraries across West Lothian
Please note: With effect from 1st March 2022, the BookMyne app will no longer be available to to download from the App Store or Google Play. Current BookMyne users will still have access to the app, however no further upgrades or support will be provided by the app provider. We therefore strongly recommend that customers uninstall the BookMyne app and download the cloudLibrary app.
Appointments are no longer required to visit any West Lothian library.
Library customers will be able to access their favourite books faster, with the 72-hour quarantine for returned materials no longer required.
Appointments will also no longer be required to browse in any West Lothian Council library or community museum. To ensure the safety of staff and customers, visitor numbers will remain limited based on the capacity at each library; queues may be experienced during busy periods.
Click & Collect will remain. Customers will continue to reserve their items from the library catalogue and will be contacted when they are available to collect from a designated collection point in the library, then check out the items, either at the self-service kiosk or library reception, at any time during library opening hours.
PC access will remain by appointment only and can be booked by telephoning the library you wish to visit or online here.
Face coverings will still be required unless you are exempt, and Test and Protect procedures through Check in Scotland will still be in place.
All visitors will also be encouraged to maintain good hand hygiene with washing and sanitising facilities available in every venue, with a one-way system in place and windows and doors open where possible to increase ventilation.
Customers will be encouraged to wipe down touch points before and after use on machines such as self-check machines, PCs and photocopiers, with use of self-check machines promoted to reduce contact with staff.
Our staff will be on hand for assistance if required and if physical distancing can be maintained.
---
cloudLibrary App - Borrowing books just got easier and safer
Introducing cloudLibrary a fantastic, modern way to check out books from the library via your smartphone or tablet. Download the cloudLibrary by bibliotheca app from your app store and register using your library membership number and PIN. When you visit the library and have selected the books you wish to borrow, simply scan their barcodes using your smartphone or tablet, finish the checkout process in the app, then pack your books and go!
Key features of the cloudLibrary app include:
manage your library account online
search the online library catalogue
reserve physical books
renew physical book loans
receive interactive receipts for physical items borrowed
provides a clear list of borrowed items and return due dates
view your borrowing history
receive notifications of return dates
view and cancel reservations
add multiple library memberships to your account e.g. parents can add their children's accounts.
customise your app using engaging genre-based avatars and colour themes
Please click the following link for user guide leaflet:
cloudLibrary App User Guide [546.11KB]
Current methods of checking out items, such as self-service kiosks, and handing to library staff can still be used.
If you require any assistance with downloading or using cloudLibrary please ask a member of staff in any West Lothian library or email: library.info@westlothian.gov.uk
---
New memberships: Details on how to become West Lothian library member can be found on our library membership webpage
---
e-Library
The Digital Library is open 24/7, offering free downloads of e-books, e-Talking Books and e-Magazines, so why not have a look at what's available?
With 1000's to choose from, check out our great selection of eBooks and eTalking Books, brought to you through BorrowBox and e-Magazines available through Libby from OverDrive.
You simply sign up with your library barcode, create an account and start downloading to tablets, smart phones, laptops and PCs.
---
Libraries & Museums e-Newsletter
Download the Libraries & Museums Newsletter here:
Latest Updates regarding Council Building and Facilities in relation to Coronavirus (COVID 19)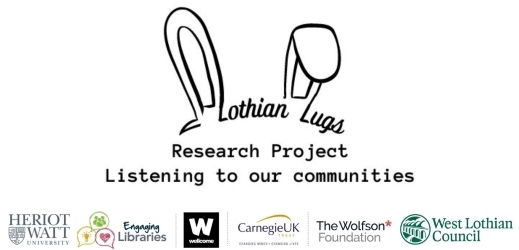 The 'Lothian Lugs' project is part of the Carnegie UK Trust, Engaging Libraries programme and is a collaboration between West Lothian Libraries and Heriot-Watt University. Our main focus is to listen to our communities to explore how we can share cutting edge research with them, and how they can help shape future research.