Smarter travel news
There's a lot happening on smarter travel in West Lothian, across organisations, schools, communities and individuals. Keep up to date with the latest Smarter Travel News on this page.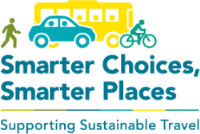 Love to Ride Central Scotland
The national Love to Ride cycling challenge has been running for some time, and in September 2017, it again came to West Lothian. As part of the council's Smarter Choices Smarter Places programme (funded by Transport Scotland), a Love to Ride Central Scotland Challenge was promoted to West Lothian workplaces, communities and organisations. This year the challenge has been extended in partnership with Clackmannanshire and Falkirk Council to cover Central Scotland.
This challenge is aimed at encouraging people to get back on their bikes and log their cycle rides (no matter how short!) during the month of September with the chance to win prizes (including a new bike!). The challenge saw over 23,000 miles made by bike by West Lothian participants in 2016, a quarter of whom were new to cycling.
You can read more about Love to Ride West Central Scotland and join for free at Love to Ride Central Scotland (opens new window) . The website is open for use and anyone can register and set themselves personal cycling goals beyond September.
---
Cycle training courses coming up in West Lothian
Through the council's Smarter Choices Smarter Places programme, funded by Transport Scotland, an Essential Cycling Skills course is running on Saturday 18th February 2017 in Livingston. Eight free places are available on this 2-3 hour course which will help you improve your cycling confidence. Head to Local cycle training courses (opens new window) and click on Essential Cycling Skills courses.
For those who are keen to help deliver Bikeability in their local school, a number of courses are running in February at the Low Port Centre in Linlithgow. Head to Local cycle training courses (opens new window) and click on Cycle Training Assistant courses to book a free place.
---
Step Count Challenge
West Lothian Council funded participation in Paths for All's Step Count Challenge in 2015 and 2016, as part of our Transport Scotland-funded Smarter Choices Smarter Places programme. The challenge is a workplace-based physical activity challenge, with teams of up to 5 people recording their daily steps, bike rides and swims. Hundreds of people across West Lothian have taken part in the Step Count Challenge in recent years, and have risen to the challenge - read some accounts at Meet the Walkers - Team One Step Beyond (opens new window) .
Feedback from participants has shown people value the motivation to increase their daily activity - through more active travel for everyday journeys, walking meetings, weekend walks and bike rides. Some reported re-discovering local areas on foot or by bike, spending more quality time with family members who joined them on walks or bike rides, getting to know colleagues better at work through the team-based challenge, and just feeling physically and mentally healthier.
The Scotland-wide Step Count Challenge runs twice a year, spring and autumn. Participation is only £5 per team member (plus £5 for a pedometer to monitor steps if you need one). Head to Step Count Challenge (opens new window) to sign your team up today.
---
West Lothian launches its Active Travel Plan, "Making Active Connections"
West Lothian Council is pleased to launch its adopted Active Travel Plan 2016-2021, "Making Active Connections". This plan has been developed in consultation with communities, partner organisations and across multiple teams within the council. It aims to provide a framework for investment in infrastructure and behaviour change measures to support everyday journeys by walking and cycling (and scooting) in West Lothian.
You can read the Active Travel Plan at Active travel planning and projects.