Children's Play Areas
West Lothian Council inspect and maintain play areas all year round.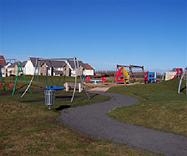 Opportunities to participate in play activities are essential to the healthy mental, physical, social and emotional development of children. The main objectives are to ensure that children have accessible, safer, inclusive fun and stimulating play environments.
---
Inspection of play areas
West Lothian Council's equipped play areas are inspected on a regular basis. In between visits customers are invited to report problems such as broken glass and damaged equipment to us by telephoning 01506 280000 or completing the online form.
---
Play areas to be improved in 2022/2023
Beecraigs Country Park Play Area, Linlithgow
Bridgend Play Area, Bridgend
Deanburn Play Area, Linlithgow
East Calder Park Play Area, East Calder
Eliburn Park Play Area, Eliburn, Livingston
Gorsebank Play Area, Ladywell, Livingston
Kirkfield West Play Area, Livingston Village
Livingston Village Park Play Area, Livingston Village
Polkemmet Country Park Play Area, Whitburn
Raeburn Rigg 143 Play Area, Deans, Livingston
Wester Inch Circle Play Area, Bathgate
---
Service Standards for Play Area Maintenance:
Inspect and maintain our play areas once every ten working days
Conduct independent inspection of all sites at least once every 18 months
Make safe dangerous or vandalised equipment within 24 hours
---
Feedback Survey
---