Marriage Ceremonies
How to arrange a ceremony in West Lothian
How to arrange a Ceremony in West Lothian
Following the most recent updates by the Scottish Government on marriage ceremonies, please see the CURRENT guidelines below:
Marriage and Civil Partnership Ceremonies at West Lothian Marriage Offices
A maximum number of 15 people may attend a ceremony within our Livingston Office

A maximum number of 10 in the Bathgate Office due to the size of the rooms and taking social distancing into account.

The maximum figure encompasses all those at the ceremony, including Registrar, children, carer's supporting an attendee and photographers.
Please speak to the local Registration Office for current Level guidelines on guests.
PLEASE NOTE: Rules on face coverings
The wearing of face coverings will be compulsory at our Bathgate and Livingston Registration Offices.
Everyone attending an indoor marriage or civil partnership service in a place of worship or wedding venue will be required by law to wear a face covering unless exempt under existing regulations. However, the couple being married will be exempt from this requirement during the ceremony itself provided that there is a distance of at least 2 metres between you and the guests.
In addition, children under the age of 5 are not required to wear a face covering.
To minimise the chance of exposure to COVID-19, we advise that any potential participant in a ceremony or other attendee who has symptoms or is self-isolating should not attend

If either party, the witnesses or anyone else attending the ceremony shows clear symptoms of COVID-19 on the day, the marriage or civil partnership should not go ahead

Any person who is shielding should continue to follow Scottish Government guidance on shielding

Any person who becomes unwell with symptoms of COVID-19 should be sent home, and advised to follow guidance on what to do when you develop symptoms

Attendees should continue to practice good hand and cough hygiene (including the handling of rings and other objects, such as those associated with hand-fasting, and so on)

Face coverings MUST be worn as a precautionary measure by parties, witnesses and guests at an indoor ceremony.

the ceremony or registration should be concluded in the shortest reasonable time. The content of a ceremony or registration should be limited as far as reasonably possible to the elements required for the marriage or civil partnership to be validly constituted under the law of Scotland

For the purpose of Track and Trace you will be required to provide/confirm Name and Contact details when arriving at the venue.
How much notice do we need to give?
You can submit your Marriage Notice between 29 days and 3 months prior to your wedding however, we are requesting all documents 10-12 weeks prior to your ceremony.
Where do I hand in my paperwork?
Please call our Livingston or Bathgate Office to book an appointment to submit your marriage paperwork. Livingston Office can be contacted on 01506 281898 and Bathgate 01506 282916. We request only 1 person attend the appointment to ensure we keep the number of people in the office to a minimum.
Bathgate Office cannot accept any marriage paperwork for weddings outside the Office.If you have any concerns or queries regarding the information above, please don't hesitate to contact our Registration team who will be happy to help.
---
What documents do we need?
Please read this list carefully and ensure you bring all documents, fully completed to our office as this may delay in processing your Marriage Notice.
Print off 2 x pages 7 & 8 (one for each party to the marriage)
Birth certificates (translated in to English if necessary)
Proof of address i.e. utility bill, dated within the last three months
Valid passport
If a registrar is conducting your ceremony, please complete a
If you are travelling from a non EEA country or are non EEA national further documentation will need to be completed please also download and complete a
If you have previously been married,divorce or dissolution documents, or if you are widowed, a copy of your spouses death certificate.
If your domicile is abroad, a Certificate Of No Impediment (CONI) issued by the authority in your home town or country to the effect that you are free to marry (translated in to English if necessary)
All the paperwork must be handed into the Livingston Registration Office with, original documents. If your wedding is to be held in Bathgate Registration Office, you can hand your documents into there.
It is also possible to send these documents into the registration office, we can take photocopies of your birth certificates and passports, but will need to see your original documents prior to your ceremony. When we receive these we will give you a call on receipt and take your payment over the phone with a debit or credit card.
How much does it cost?
Appropriate 2020
Fees from 1 April 2020 can be found by visiting Wedding Fees
---
What kind of ceremonies are there?
There are three types of ceremonies in Scotland- Civil, Religious and Belief Ceremonies.
Civil Ceremony
A Civil marriage between two people (this includes same sex couples) can take place in a registration office or at a venue agreed by the Registrar.
Civil marriages can only be carried out by;
A Registrar who has been authorised by the Registrar General
or Assistant Registrar who has been authorised by the Registrar General
Religious Ceremony
A Religious marriage (Christian or non-Christian) can be carried out by;
Minister
Member of the Clergy
Pastor
Priest
or other person entitled to do so under the Marriage (Scotland) Act 1977.
Belief Marriage
A Belief marriage can be carried out by someone authorised by the National Records of Scotland.
---
We are having a Civil Ceremony, how do we book a Registrar?
You can book a registrar online whether having your ceremony in a registration office or a venue of your choice.
You should contact the Registrar in the district where your marriage will take place well in advance to book your wedding. This is very important to secure the date and time. Advanced booking is very important for popular venues and times of the year.
For further information, please call us on 01506 281897 or 01506 282916 or email us registration@westlothian.gov.uk
If you choose to have an office ceremony you will be required to pay an non refundable deposit of £55.00 which can be made either in person or by telephone. Office ceremonies can take place at ​Livingston Registration Office, Bathgate Registration Office or Howden Park Centre. Images of the venues can be found in the 'Related Documents' section of this page.
If you choose to have a venue ceremony you will need to complete the Book a Registrar online form or print off and post/hand in this with a non refundable deposit of £100
Complimentary services can be discussed with registration staff. (hand fasting etc.)
---
Marriage schedules
Religious or Belief Marriage
If you are having a Religious or Belief Marriage, either party to the marriage will need to collect the Marriage Schedule from the registration office, no earlier than 7 days prior to the wedding. This will not be issued to anyone other than the parties to the marriage.
The schedule then needs to be returned to the registration office within three working days of the ceremony, anyone can hand this into the office and your marriage certificate will be produced at this time.
Civil Ceremony
If you are having a Civil Ceremony, the registrar will bring the schedule to the ceremony. Once the ceremony is complete the registrar will return the schedule to the office to create your marriage certificate. This can then either be picked up from the office or posted out second class post.
Your fees include one marriage certificate. If you require further certificates please discuss this with the registrar.
---
Are you subject to immigration controls?
You should contact the UK border agency for advice on entry requirements to the UK under immigration rules for marriage and civil partnerships.
If you are unable to provide proof of your Immigration status in the UK or a valid Visa, your Marriage Notice period may increase to up to 70 days pending Home Office Clearance. If you are a national of a country outside the European Economic Area (EEA), and Switzerland such as, for example, Australia, Canada, New Zealand or the United States etc. If you intend to visit Scotland to get married or to register a civil partnership, then you will need relevant entry clearance to enter the UK.

Our marriage room in the registration office in Livingston is based within the Civic Centre.

The ceremony room is situated within Bathgate Partnership Centre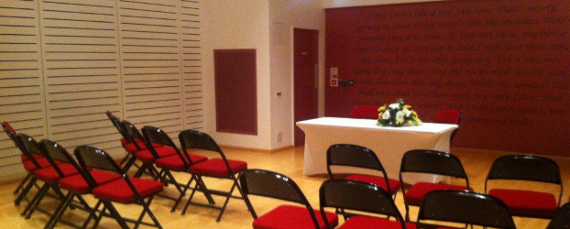 Our ceremonies in the registration office on a Saturday in Livingston are held in the Howden Park Centre.