How and where you can vote
At an election you can vote in person at a polling place, by post, or you can appoint a proxy to vote for you.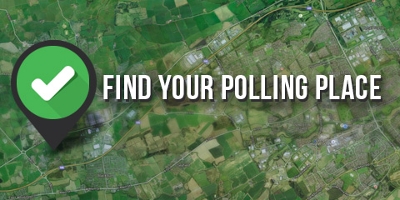 In the run up to an election you will receive a polling card. This will tell you where your polling place is. Please check this as you may not vote at the same place as in the previous election. You do not need to take your polling card with you to vote, but it will make it easier for the polling staff to locate you on the Electoral Register.
You can apply for a postal vote up to 11 working days before the election date. You do not need a reason to apply for a postal vote
You can also apply for a proxy vote for any particular election, but you must provide a reason.
Frequently Asked Questions
Use the links below to find out how to get to your Polling Place
IMPORTANT: Please ensure you visit the Polling Place as stated on your Polling Card. This is the only place you will be able to vote in person