Spotlight On Emilia - Disability Benefit volunteer
Emilia has been volunteering with the Advice Shop since 2018 as a Disability Benefit volunteer.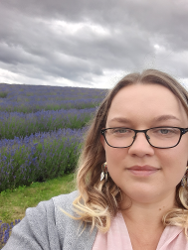 Emilia has been volunteering with the Advice Shop since 2018 as a Disability Benefit volunteer. She moved from Poland to Scotland in 2006 and originally lived in Edinburgh. During her time in Edinburgh she didn't do any official volunteering but helped to organise a Polish culture festival. When she moved to West Lothian, she volunteered in Boghall Community Wing's homework club. Emilia supported Polish children and parents during her time there. She also tried to encourage Polish families to attend the community wing and to become more involved in their local community.
Emilia became a volunteer to help her feel part of the community and to give something back. She felt she had a variety of skills and was keen to share them with others. She has a genuine love of people and just wants to help out as best she can. When she became involved with the Advice Shop, she hoped that Polish people would be happier to approach for help if they knew there were Polish speaking people available to help them.
Emilia enjoyed the training as a Disability Benefit volunteer and said it really prepared her for working with Advice Shop customers. She shadowed Advisers until she felt she was ready to start assisting customers on her own. There is always a member of staff available to support Emilia during the session. She is always keen to participate in any additional training and does a lot of studying at home to help her in her role.
As a Disability Benefit volunteer, Emilia assists people to complete forms to apply for Personal Independence Payment (PIP). She always spends time at the beginning of an appointment making sure people feel as relaxed as possible as they have to share a lot of personal information whilst completing the form. She always strives to do the best she can for customers and is happy to ask Advice Shop staff for support when required.
When asked what her volunteering role means to her she said:
Fulfilment
Loves being able to meet people
Making a difference to people
Learning new things
Taking part in training alongside other volunteers/staff
Gives her the opportunity to improve her English (speaking to customers and staff)
Being part of the community
Feeling part of the Advice Shop team and being appreciated for the role she carries out
Emilia works part-time so manages to fit her volunteering in between work and family commitments. She described her volunteering as 'me time' as it is something she does for herself as she enjoys helping people so much.
Unfortunately, due to the Covid pandemic Emilia has been unable to volunteer since March 2019 but she is now back doing the role she loves albeit in a slightly different way for now. She completed refresher training and some health and safety training before being able to start back but said that she is delighted to have the opportunity to be back helping people.