Spotlight On Jim McDowell
In 2018, after 32 years service, I was made redundant from a Medical Device company due to plant closure. Redundancy can mean different things to an individual depending on personal circumstances but, regardless, there is a process of change to work through. For me personally, I decided to use the process as a positive opportunity to embark on a different direction in life.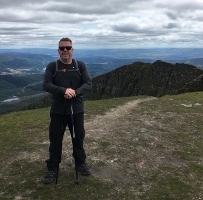 A great saying that I "try" to use often is "Change The Way You Look At Things and The Things You Look At Will Change." I decided it was time to put into practice the aforementioned advice that I'll happily give others......even when they don't ask for it.
Why did you decide to volunteer with the Advice Shop?
My whole working life was spent in a Production based environment dealing with the demands and challenges of that world. A large part of my previous role involved managing and supporting people. In the final year of my previous employment, I also gained a qualification in Coaching. Therefore, I decided I wanted to use all my professional and personal skills / experience to support people further. It may be a cliché, but I really wanted to "give something back" and "make a difference" no matter how small to, relevant people and the community.
Plus, I had personal reasons that pointed me in the direction of simply wanting to help people that may have no one else to turn to. I have a very close family member whom faces daily challenges and requires continuous support and guidance. I often wondered what it must be like for others who don't have anyone to help them with daily life in all aspects. Obviously, people in those circumstances have to turn to places like the Advice Centre and I wanted to be someone, who can be there, to simply make a difference, when they reach out.
What was the training was like?
My sister-in -law Susan actually works in the Advice Shop and it was her who pointed me in the direction of Volunteering.
I reached out to Joanne Mackenzie and met with her to learn more. All aspects of Volunteering were covered at that 1st informal session and I left knowing that I wanted to become involved, specifically as a Medical Assessment Buddy. This role was particularly relevant to my personal experiences in supporting and advising my own family member, throughout her life, especially from a medical perspective.
I applied through the formal process and went through an interview with Rosie and Joanne. Once accepted, I went through various stages of training covering all aspects of the role. This included information sessions with all members of the Volunteers Co-Ordinating Team (Joanne, Caroline, Rosie, Maureen and of course, Ricky Taylor.)
The training was excellent. It covered everything you needed to know to equip you with the skills and knowledge of the role before you "went out on your own". These sessions included general Volunteering Information, Medical Assessment Buddy Training, shadowing existing Buddy's carrying out Pre-Assessment interviews.
Plus, I was supplied with relevant documentation that further explained the role and what was expected, e.g. Volunteer Induction Packs, Role Descriptions and Code of Conduct Guidelines etc.
A valuable part of the training was talking and listening with Ricky. He had spent some time volunteering in the role that I now do and his "hands on" advice and experience was invaluable.
What does your volunteering role involve?
The ultimate aim of my role is to prepare, guide and support people with varying challenges through their DWP Medical Assessment. The outcome of which plays an obvious part in their eligibility or otherwise, for an ESA or PIP award. The process is designed for people whom specifically require this level of support and would otherwise have no one else to accompany them to what can be a particularly stressful occasion.
There are essentially 2 parts to this role for each client. Firstly, I would meet with them, at the Advice Shop a few days before the actual appointment to carry out a Pre-Assessment. This involves taking them through all the specific questions they would be asked at the actual assessment appointment. It helps me explain what some of these questions mean etc. This session also explains in practical terms what they should be bringing to the appointment.
The pre-assessment also gives me the 1st chance to build up a rapport with the client hopefully helping them feel less anxious about what's involved. At the same time, acknowledging the individual challenges of every client, I hope to install some trust in both me and the process, contributing towards the eventual completion of the assessment.
I also carry out telephone Pre-Assessments every 2 weeks at the Advice Centre. This involves a more basic pre-assessment and is designed for people who do have someone to accompany them to their appointment.
The 2nd part of the process is to actually accompany the client at the medical assessment, taking place at what can be 4 different locations in Edinburgh. This involves meeting them at the Assessment Centre and sitting in on the appointment. This can be a very anxious time for the client and generally speaking, the Buddy is there to offer support, assistance and advice to help them through.
What does the customer get from the process?
The customer simply receives help and support in a process that, in some cases, they may not even be able to face alone. From the onset, they gain an understanding of what's involved and hopefully this in turn helps reduce their anxiety and increase confidence. In most cases, I feel that this helps them think more clearly and are able to answer all the assessor's questions in a way that is relevant to their own situation. They are better prepared to deal with a situation that can have a huge bearing on their daily life.
What you get from volunteering? Do you feel part of the organisation?
At the start of this I tried to explain that I simply wanted to be able to make a small difference to people who genuinely need support in something that makes a huge difference to them. I think this role does exactly that and the gratitude that people generally have at the end of the process makes it all worthwhile.
I've been involved in this role, with the Advice Shop from around Dec 2018. The role fits in perfectly with my life at the moment as I can vary the amount of time I'm involved and how many appointments I take on.
From a personal perspective, I think humans are at their best when four things are present in their life. These four things are:
A sense of purpose.....a sense of achievement.....a sense of satisfaction.....a sense of belonging.
I feel the Volunteering Role fits perfectly with that. It certainly gives me a sense of purpose and a feeling of achievement with every appointment completed. It also gives me a sense of satisfaction when I can see what it means to the customer and I feel an appointment has went well.
Plus, crucially, this gives me a sense of belonging no matter how small or often I'm involved. That sense of belonging is certainly a result of how you're regarded and how you feel included by the team............Joanne, Caroline, Rosie, Maureen and Ricky.
Who knows what's next for me but, currently, this experience is proving invaluable and one which I'm grateful for.