Volunteer
Have you thought about volunteering with Heritage Services?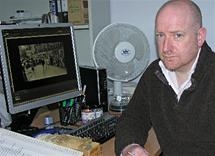 Volunteers play an important role in the work of Heritage Services. Our volunteers get involved with a range of activities including:
Digitisation of photographs and negatives
Transcription of archival material
Newspaper indexing
Documentation
Carrying out oral history interviews
Voluntary Work - What's in it for you?
A chance to add work experience to your CV
Opportunity to develop knowledge and skills required to work in the heritage sector
A chance to meet new people
Current Volunteering Opportunities
Whitburn: Our Community Museum - Volunteers Wanted
The Museums Service has received funding from Museum Galleries Scotland to create a new Community Museum in Whitburn Partnership Centre. The museum will provide an opportunity to provide a fresh interpretation of the history of Whitburn from the perspective of the local community. We need your help to make it happen. We are looking for volunteers to get involved in:
Research
Carrying out oral history interviews
Selecting Objects
Writing label and panel text
You can get involved as an individual or as part of a community group. Full training will be provided. For more information or to sign up, email museums or call 01506 283652.
West Lothian Council Museums Service are looking for a volunteer to develop resource packs for local schools based on the objects in our collections. If you are interested, please email Museums Service or phone 01506 283652.