e-Magazines
Download complete digital magazines for free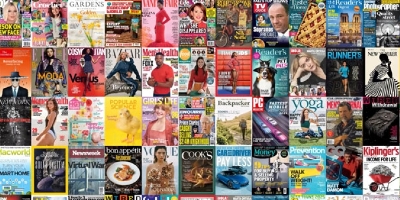 Choose from our wide range of popular magazines and download them to a number of devices, giving you access wherever you choose, 24/7.
Register or log into your account here
If you are already a West Lothian library member all you need to register is your library membership number (the long barcode on your card) and PIN (if you need a PIN reminder please contact us here here).
New to our e-Magazines service? Just follow these simple steps on to how to register and start downloading:
To register on your your mobile device, download Libby from the App Store or Google Play and tap the "Register now" link on the App's main page to create your account in just a few easy steps:
Choose West Lothian libraries
Enter your library card membership number and PIN
Once registered, you will be automatically logged in and can enjoy our content.
or
You can register using your PC or laptop by selecting Register at he top of the screen on West Lothian libraries Libby from Overdrive website, then simply enter your library barcode/membership number and PIN to access the magazine catalogue.
Full user instructions are available on the site, or you can download and keep the Libby Quick User Guide [418KB] .
Watch the OverDrive magazines information video
Our e-Magazine collection offers a wide range of popular magazines. There's an e-Magazine for almost everyone and they're FREE to all West Lothian library members.
---
Libby App
Make sure you have the Libby app to access all your great content while on the go!

If you haven't already, register for Libby app account, for more information, refer to our Libby quick start guide [265KB]
Should you have any problems, please contact library.info@westlothian.gov.uk
---